The mountain roads across the interior highlands are closed until late June. The Public Roads Administration has information on mountain roads and when they open in the summers in this brochure. (also here)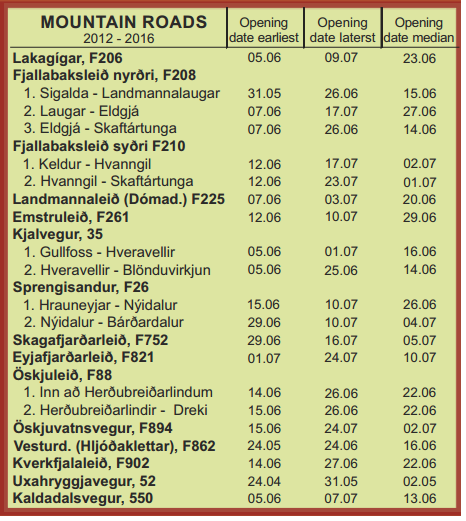 The roads are rough, with lots of steep hills and unbridged rivers.
In the interior there are no shops so you must bring enough food.
The Iceland Touring Association (Ferðafélag Íslands) is the biggest travel-association in Iceland and it runs shelters in 34 places in the Icelandic interior. They are often full, need to be booked at least a month in advance and accommodation is not guaranteed so you must bring a tent. Often you will have to put up your tent on hard rocky ground - this is the largest desert in Europe. Some areas are protected areas where your must camp at designated campsites. Elsewhere you can rough camp almost anywhere except on private land, provided you don't leave any marks or litter. Ask permission if you think the spot is privately owned.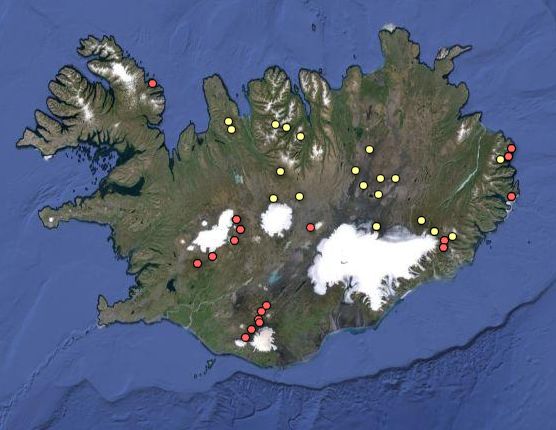 Most rivers are unbridged and at over 40 fords, notices have been put up with instructions on how to ford rivers. Be sure to assess the current, depth and the nature of the riverbed before fording a river. The water will wash away the grease in the pedals, bottom brackets and hubs so you should always carry your bike across if the water levels are high enough to reach those sensitive parts. Glacial water is also loaded with mud and sand that can ruin your bearings in minutes. "Sealed bearings" does not mean waterproof. The water is ice cold and will numb your feet in seconds. We recommend using neoprene shoes, such as those used on surfboards, that will keep you warm and makes it easier to navigate on sharp or slippery stones. Alternatively you can use old tennis shoes, etc. If the river looks dangerous to cross, it probably is and if you are traveling by yourself you should wait for someone who could keep an eye out and help you or get help if you run into trouble. Glacial rivers swell as the day goes on, especially on warm days and after rain, sometimes early mornings are best for crossing big rivers.
Check the weather forecast before heading into the interior highlands and every day while there. The weather can change very suddenly. You should also ask the wardens in the huts, and others, about conditions ahead. Sometimes rivers flood and bridges and roads are closed. In most areas you will find small rivers with fresh spring water every few hours but in certain areas you may have to load up on water for two days.