Maps
You can order all kinds of maps from Ferdakort.is The 1:500.000 road map should have enough detail for your trip.
Check out The National Land Survey of Iceland for more detailed information.
The Public Roads Administration maintains this online road map of Iceland wich is regularely updated and shows all roads in Iceland and marks areas where traffic is prohibited due to contidions. It's a PDF document and you can zoom in for more detail. See also "Roads".
Also check out the Cycling Iceland map in the menu.
Reykjavik
Reykjavik has a network of paths for walking and cycling. It has practically no markings so you might make a wrong turn now and then but it's all a part of the adventure. Here is a detailed map of the path system.
Guidebooks
There are a few guidebooks on Iceland, including The Visitor's KEY to ICELAND which very popular with Icelanders. The Lonely Planet is a popular choice. And you can download some of the free brocures available at every tourist information stop and gas stations: What's on in Iceland, Áning - accomodation and more
The Visitor's KEY to ICELAND

Description:
This essential guidebook accompanies you around the country. Organised arond maps - of all the roads in the country including the highlands and all mountain roads, as well as streetmaps of towns and villages - it gives a running commentary on all you see, providing information and anecdoted relating not only to natural featurs but also to local social, political and literary history.

The book is available in English, German and Icelandic.

Available from: http://www.randburg.is/is/ib.html

The biking book of Iceland - Part 1: The Vestfjords (2012)

Description:
Iceland is full of fantastic biking routes. This book describes fourteen day trip cycle circuits, including detours and local knowledge. They range from short and easy family trips to long rough terrain rides.

The first book in The Biking Book of Iceland series is about the Westfjords. This remote area is largely free of heavy traffic, is famous for its magnificent landscapes and offers a feast for the senses with the sounds and smells of nature and its clean air and water.

The book contains over 200 colour photos. Each circuit is accompanied by an informative, easy to use map which includes colour coded indications of road gradients.

Available from: www.vestfirska.is and bookstores in Iceland.

The biking book of Iceland - Part 2

This is the second in the series but only available in Icelandic. This book describes 22 day trip cycle circuits on the Snæfellsnes peninsula and neighbouring area with detailed maps of the routes.

Available from: www.vestfirska.is and bookstores in Iceland.

The biking book of Iceland - Part 3

This is the third in the series but only available in Icelandic. This book describes 12 day trip cycle circuits on the Reykjanes peninsula and neighbouring area from Hvalfjörður to lake Þingvallavatn.

Available from: www.vestfirska.is and bookstores in Iceland.

Island per Rad

The first guidebook written specifically for cycle touring was only available in German and originally published in 2001. It's called Island per Rad and is written by Ulf Hoffmann who has cycled extensively here in Iceland.

He has made the material available online and is working on translating it to english.

Check out his website: www.bikingiceland.com

(Kettler ISBN 3-921939-88-3)
Websites
Michiel Erens has travelled extensively around Iceland and maintains a great website with extensive advice on cycling in Iceland, different routes and areas in Iceland, photos and more: ME Iceland pages.
He has some advice on where to go here: Where to go
He also has links to other sites with information on cycling in Iceland and travellogs from people who have cycled in Iceland: ME links.
Looking for off-road trails?
Check out the wikiloc.com website for tips from other riders: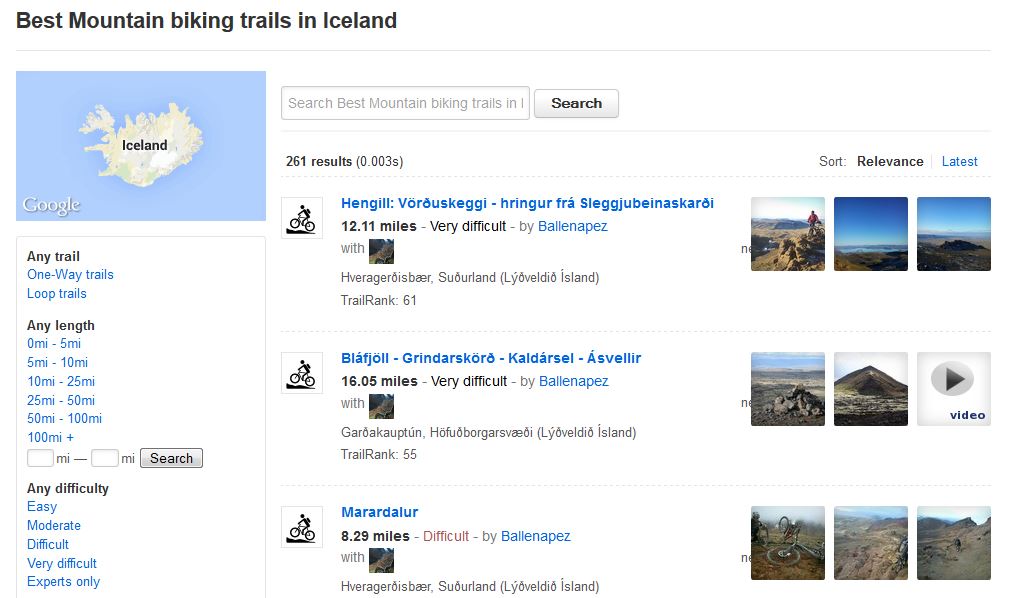 Want to ride around Reykjavik?
Check out the Strava heatmap to see what paths riders are using: